mark, casey, matt and lilross all did carmoirs, so i started wondering if i had pictures of all the cars i've had, which number ten. after much digging and leafing through stacks of old photos, i've found eight nine.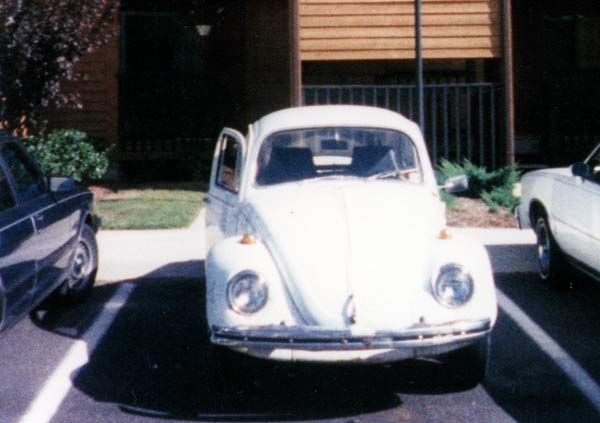 this was my first car. i think it was about $350. i got it in west virginia. i didn't have a drivers license yet, but i wanted to be ready. i think the guy told me it was a '68 but it wasn't. maybe it was a '74 with a '68 engine or something wacky like that. i learned to drive a manual transmission car in this, which was sometimes tricky for a beginner on the steep hills and winding roads of backwoods west virginia. pictured here in the parking lot at grandma's in virginia beach.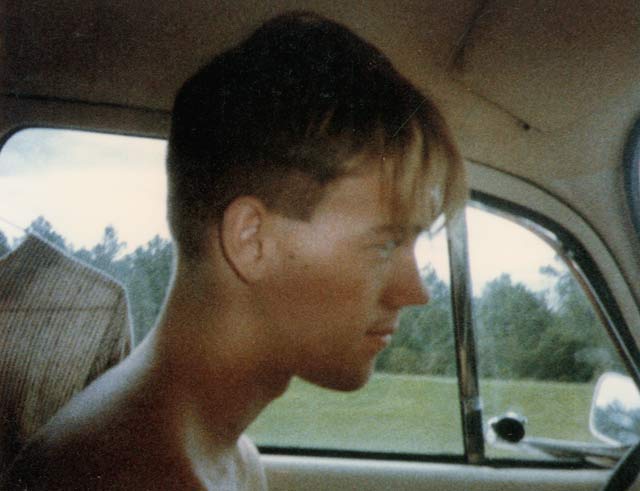 ross and i drove it down to florida. which means ross, because i still didn't have my license. it took days. the first leg, from berkeley springs to virginia beach took about 13 hours (vs the normal 5 or 6) because it would stall every 30 minutes or so and we'd have to let it cool to start up again. my uncle tony paid for some work in virginia beach so it would run for hours at a time. then the starter stopped working, so we had to push start it. we'd push it, ross from the driver door, me from the back, he'd jump in, start it, then loop around to pick me up. i'd get in and i'd say "let's get the fuck out of here" and off we'd go. this picture was taken somewhere between berkeley springs and saint pete.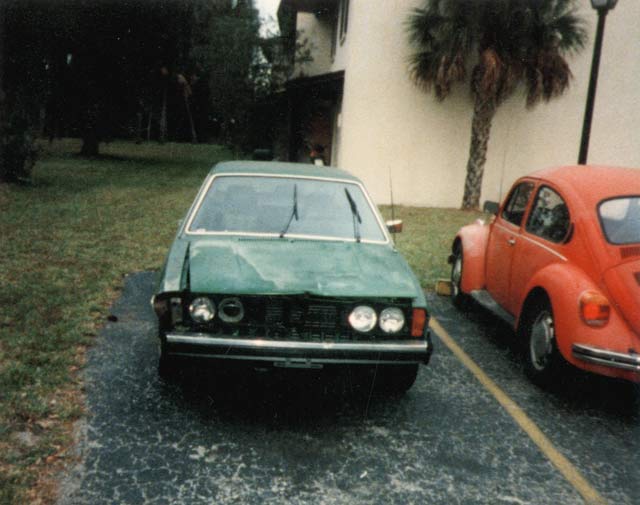 the beetle broke soon after arriving in florida, so i never really got to drive it legally. eventually it was towed away for parts. after a while, i found this scirocco in the paper, it was from the mid seventies. i think the guy wanted $100, but i offered him $65 and he took it. coincidentally, the car's top speed was 65 mph. you can also see the orange beetle which was ross's for while, and my step mother's and i also drove it around some between cars. it had a nice fiberglass floor. the scirocco and fiat pictures are in the parking lot of bent pine condominium, which is where i lived in saint petersburg.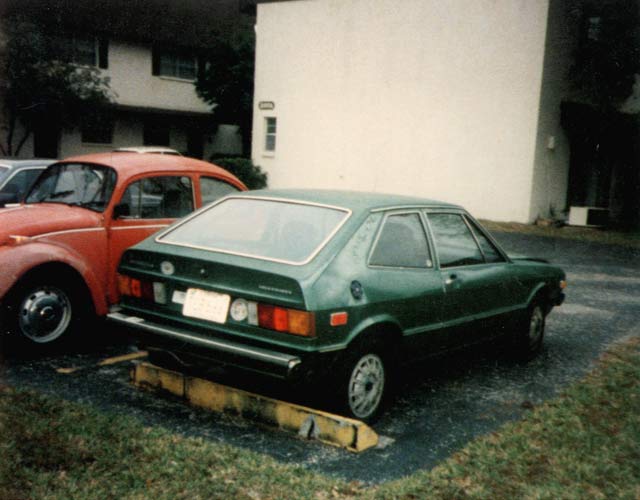 i had my license by then, but i only drove the car for a few weeks before i drove it right into a buick. i was with pete jay and he said i turned right in front of the buick, but i don't remember seeing it. i think it was on 54th avenue south over by pete's house. he didn't have his seat belt on, but he had his skateboard in his lap. his skateboard hit the dash, and his head hit the skateboard, and he liked to say it saved his life. the insurance company estimated there was $3000 damage to the $65 car (about the same amount done to the buick).




i got this fiat wagon for $75 from matt's mom. i don't recall what year it was, maybe '76 or '78 it was sitting in a bunch of weeds and was somewhat neglected. it was about the same color as the scirocco. note the strips of poor man's bondo (duct tape) covering rust holes. the headliner was sagging way down, so i ripped it out, which made for a loud ride on the highway. in the background you can see ross's vw van.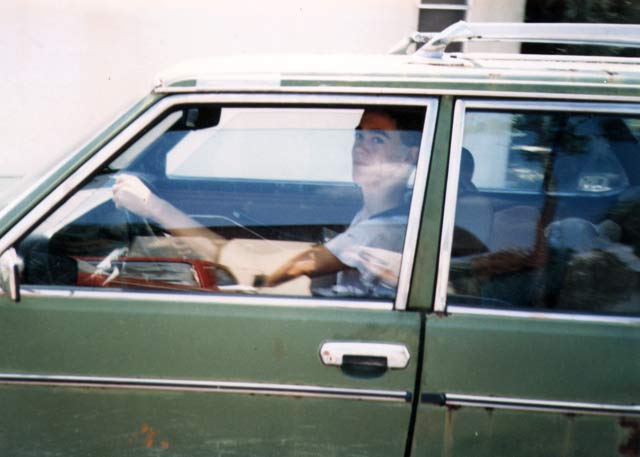 here's me about to leave on a trip to west virginia. i made it to within a mile of my friend's house in georgia. no one in georgia seemed to want to work on a fiat. "that's got a five wire system, i won't touch that." i left the fiat in georgia and flew to west virginia. my friend had it towed away for parts. right before i left, i was looking at the alternator which i'd replaced before i'd left, and i noticed a little plug that wasn't plugged in. it made me think i'd driven all the way from st pete on the battery and maybe there was nothing wrong but an unplugged plug, but by then it was too late to fuck with it.

missing: light blue chevy pickup truck, approx 1974

i bought this in west virginia from john michael to drive back down to florida. i think i paid $450 for it. i had to get new tires right away, and do one or two other things to it. i think i got some used tires down at bob's tires, and ended up spending $200 or so. then brent and i departed berkeley springs with the power of a roaring v8 to propel us to florida. except i'm not sure if it wasn't really a v7 or v6 by then. it burned a lot of oil too. i got about 15 miles to the gallon of gasoline, and 100 miles to the quart of oil. so it took 10 quarts of oil to get to saint petersburg. if anyone tailgated us, i would take it out of gear and rev the engine, and a cloud of blue oil smoke would spew out for their enjoyment. one time we stopped at a convenience store and got some snacks, including a tin of vienna sausage, mmm. we also tried to buy a porn magazine, but we were under 18 and the cashier asked us for id. we said it's out in the truck, but she wouldn't let us buy the magazine until we got the id, so we went out to the truck to 'get the id' and left.

more cars

harvey.nu