LEFT-SIDED HEART FAILURE WITH PULMONARY ŒDEMA: ITS TREATMENT WITH THE "PULMONARY PLUS PRESSURE MACHINE"
BY E. P. POULTON, D.M. Oxon., F.R.C.P. Lond.
PHYSICIAN TO GUY'S HOSPITAL, LONDON
https://www.sciencedirect.com/science/article/pii/S0140673600479481
https://www.sciencedirect.com/sdfe/pdf/download/eid/1-s2.0-S0140673600479481/first-page-pdf
Excerpt from "Poulton PE. Left-sided heart failure with pulmonary oedema: its treatment with the "pulmonary plus pressure machine". Lancet 1936; 231:981–3." first page:
The machine as eventually designed consists of a blower-an Electrolux or Hoover vacuum cleaner answers the purpose, or the smaller Hoover "dustette" might be adapted-which supplies air under positive pressure through an opening to a mask; the air escapes through a valve which is fitted into another opening in the mask. The valve* (see Figure) has a metal disc which is held up against the opening bya spring which can be tightened by turning the screw. On its proximal side there is a tube which leads to a manometer; this is a bottle of about 10 oz. containing coloured fluid to a depth of about an inch; it is hung up beside the bed. Two tubes pass through the cork, one beneath the fluid, the other just inside the bottle; the latter tube is connected to the valve. The pressure in the air passages is regulated by the strength of the spring and by the rate of flow, and the two should be adjusted so that there is an insignificant fall in pressure in the manometer during inspiration. A plus pressure of 6 in. is about the maximum that can be tolerated; often it will be better to try half this amount. The ordinary vacuum cleaner used as a blower usually gives too big a flow; it is cut down by an adjustable resistance or a machine of oversize voltage may be used. When the household vacuum cleaner is employed the machine should be run for some minutes first of all to get rid of dust; then a new flexible tube should befitted, and there should be a cotton-wool filter. If the stream of air is too rapid the patient may complain of the air being cold. Apart from cutting down the air it has been warmed by putting a hot-water bottle in the compartment for the dust bag of the electrolux or by sucking air from in front of a radiator or electric fire.
* Down Bros., St. Thomas's-street, S.E., supply the apparatus.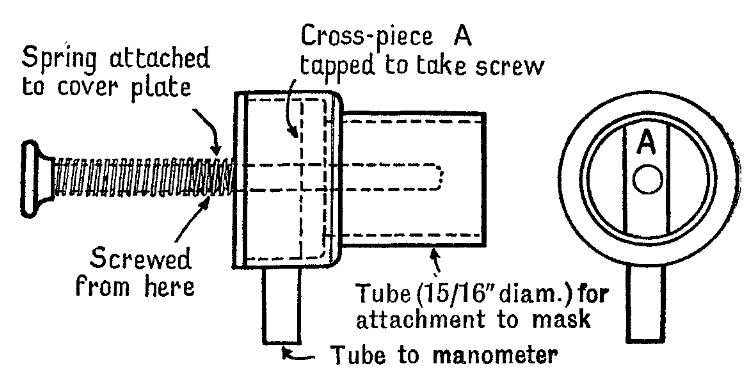 -- ventilator

-- harvey.nu