These articles appeared in the Racine Journal-Times on page 3A, Tuesday, November 25, 1969
(see text below image)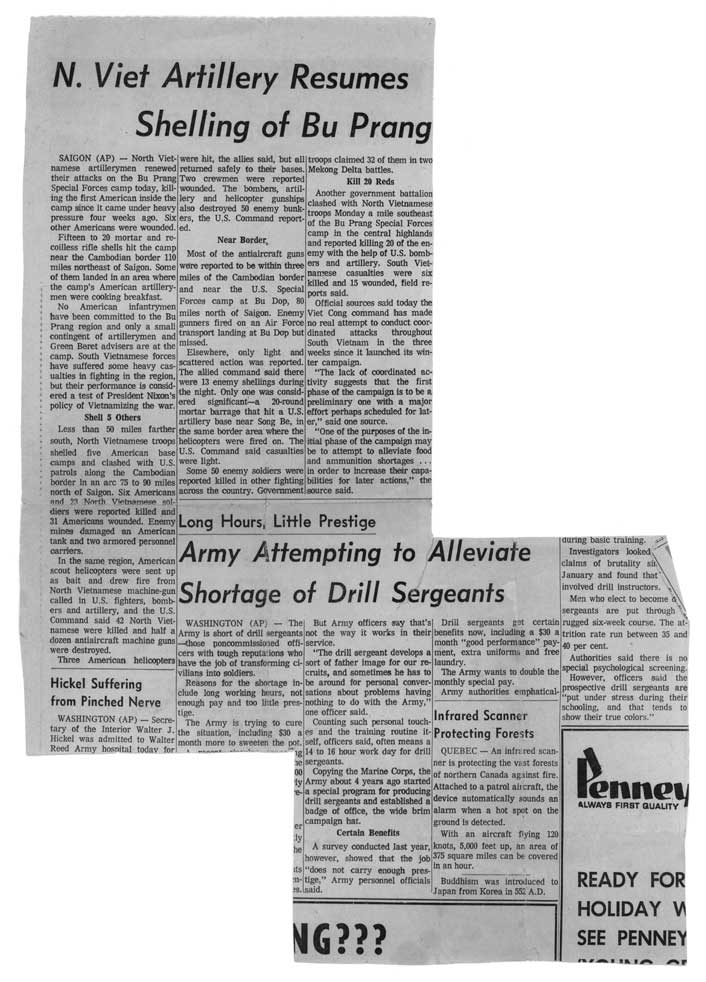 N. Viet Artillery Resumes Shelling of Bu Prang
SAIGON (AP) — North Vietnamese artillerymen renewed their attacks on the Bu Prang Special Forces camp today, killing the first American inside the camp since it came under heavy pressure four weeks ago. Six other Americans were wounded.
Fifteen to 20 mortar and recoilless rifle shells hit the camp near the Cambodian border 110 miles northeast of Saigon. Some of them landed in an area where the camp's American artillerymen were cooking breakfast.
No American infantrymen have been committed to the Bu Prang region and only a small contingent of artillerymen and Green Beret advisers are at the camp. South Vietnamese forces have suffered some heavy casualties in fighting in the region, but their performance is considered a test of President Nixon's policy of Vietnamizing the war.
Shell 5 Others
Less than 50 miles farther south, North Vietnamese troops shelled five American base camps and clashed with U.S. patrols along the Cambodian border in an arc 75 to 90 miles north of Saigon. Six Americans and 23 North Vietnamese soldiers were reported killed and 31 Americans wounded. Enemy mines damaged an American tank and two armored personnel carriers.
In the same region, American scout helicopters were sent up as bait and drew fire from North Vietnamese machine-gun called in U.S. fighters, bombers and artillery, and the U.S. Command said 42 North Vietnamese were killed and half a dozen antiaircraft machine guns were destroyed.
Three American helicopters were hit, the allies said, but all returned safely to their bases. Two crewmen were reported wounded. The bombers, artillery and helicopter gunships also destroyed 50 enemy bunkers, the U.S. Command reported.
Near Border
Most of the antiaircraft guns were reported to be within three miles of the Cambodian border and near the U.S. Special Forces camp at Bu Dop, 80 miles north of Saigon. Enemy gunners fired on an Air Force transport landing at Bu Dop but missed.
Elsewhere, only light and scattered action was reported. The allied command said there were 13 enemy shellings during the night. Only one was considered significant—a 20-round mortar barrage that hit a U.S. artillery base near Song Be, in the same border area where the helicopters were fired on. The U.S. Command said casualties were light.
Some 50 enemy soldiers were reported killed in other fighting across the country. Government troops claimed 32 of them in two Mekong Delta battles.
Kill 20 Reds
Another government battalion clashed with North Vietnamese troops Monday a mile southeast of the Bu Prang Special Forces camp in the central highlands and reported killing 20 of the enemy with the help of U.S. bombers and artillery. South Vietnamese casualties were six killed and 15 wounded, field reports said.
Official sources said today the Viet Cong command has made no real attempt to conduct coordinated attacks throughout South Vietnam in the three weeks since it launched its winter campaign.
"The lack of coordinated activity suggests that the first phase of the campaign is to be a preliminary one with a major effort perhaps scheduled for later," said one source.
"One of the purposes of the initial phase of the campaign may be to attempt to alleviate food and ammunition shortages… in order to increase their capabilities for later actions," the source said.
---
Hickel Suffering from Pinched Nerve
WASHINGTON (AP) — Secretary of the Interior Walter J. Hickel was admitted to Walter Reed Army hospital today for… (text cut off)
---
Long Hours, Little Prestige
Army Attempting to Alleviate Shortage of Drill Sergeants
WASHINGTON (AP) — The Army is short of drill sergeants—those noncommissioned officers with tough reputations who have the job of transforming civilians into soldiers.
Reasons for the shortage include long working hours, not enough pay and too little prestige.
The Army is trying to cure the situation, including $40 a month more to sweeten the pot.
(text cut off)
But Army officers say that's not the way it works in their service.
"The drill sergeant develops a sort of father image for our recruits, and sometimes he has to be around for personal conversations about problems having nothing to do with the Army," one officer said.
Counting such personal touches and the training routine itself, officers said, often means a 14 to 16 hour work day for drill sergeants.
Copying the Marine Corps, the Army about 4 years ago started a special program for producing drill sergeants and established a badge of office, the wide brim campaign hat.
Certain Benefits
A survey conducted last year, however, showed that the job "does not carry enough prestige," Army personnel officials said.
Drill sergeants get certain benefits now, including a $30 a month "good performance" payment, extra uniforms and free laundry.
The Army wants to double the monthly special pay.
Army authorities emphatical-
(text cut off)
during basic training.
Investigators looked… claims of brutality… January and found that… involved drill instructors.
Men who elect to become drill sergeants are put through a rugged six-week course. The attrition rate run between 35 and 40 per cent.
Authorities said there is no special psychological screening.
However, officers said the prospective drill sergeants are "put under stress during their schooling, and that tends to show their true colors."
---
Infrared Scanner Protecting Forests
QUEBEC — An infrared scanner is protecting the vast forests of northern Canada against fire. Attached to a patrol aircraft, the device automatically sounds an alarm when a hot spot on the ground is detected.
With an aircraft flying 120 knots, 5,000 feet up, an area of 375 square miles can be covered in an hour.
---
Buddhism was introduced to Japan from Korea in 552 A.D.
So Proudly She hails
-